ROCKWELL PlantPAx: The Modern DCS
Rethink What to Expect from a Distributed Control System
The PlantPAx® system helps producers make better, faster process control decisions. This system enables you to respond more quickly to the demands of your customers and fast-changing specifications. The latest system release has been designed to be an integral part of your digital transformation strategy that helps you be more productive and profitable while reducing operational risk.
The latest system release introduces: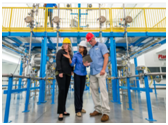 Reduced Footprint
Drives Consistency
Streamlined Workflows
TUV-Certified for Cybersecurity
Analytics Enabled
All of your automation operations can be integrated into a Connected Enterprise with the PlantPAx system being a key component. This technology will help to drive productivity, increase efficiencies and reduce costs in your organization.PlantPAx, the modern DCS, provides a single, plant-wide control system and increased flexibility to enable better business decisions.
PlantPAx5.0
Producers are expert at navigating the complexities and challenges of staying competitive. This is true in a variety of industries ranging from pharmaceuticals, consumer packaged goods, and food and beverage to mining and chemical. That's why it's so important to implement the latest technological advancements to continue your ever-evolving digital transformation journey. From the control room to the board room, process system users face the persistent challenges of balancing productivity against budget and resource constraints as well as proactively addressing evolving operational risks. Meet these challenges and experience real productivity gains in all areas of your plant with the PlantPAx distributed control system (DCS).
DCS Migrations: Address the Risks of a Legacy DCS
Your DCS is the "brain of your process"— reaching out into your plant to monitor and control the multitude of devices which enable you to produce quality products on time, every time. As your equipment ages, it is inevitable that questions about part sourcing, service, potential productivity losses from old technology, and increased risks of downtime become more likely. Learn how Rockwell Automation can help you modernize your control system with PlantPAx DCS.
Plant-wide Control and Optimization
The PlantPAx system uses a common automation platform for seamless integration between critical areas of your plant. This modern DCS connects process, discrete, power, information, and safety control into one plant-wide infrastructure. Benefits include common platforms, seamless information flow, ease of management, and lower total cost of ownership
Finally, delete any features that you will not be using. Once you are done with these general changes, save the result as a Word template.
Calable and Modular Architecture
A wide range of architecture options for increased flexibility are provided with the PlantPAx system. The same platform can be used for single stations or large distributed architectures. This means easy integration without replicating data, faster time to market, and scalable system capabilities such as HMI, batch management and data collection.
Open, Information-enabled, and Secure
The PlantPAx modern DCS is based on open communication standards leveraging EtherNet/IP as its backbone. As a result, real-time information is readily available throughout the enterprise for better business decisions. Make better business decisions by leveraging virtualization and mobility, enabling IT/OT convergence with COTS hardware, energy reduction of up to 10% and a systematic approach to defense-in-depth.
Flexible Delivery and Support Network
You are able to select the optimal implementation and support team based on your needs with the PlantPAx DCS. We can deliver the system and other world-class solutions or your local process system integrator with whom you have established a working relationship can provide your support.